Italy says goodbye to Silvio Berlusconi!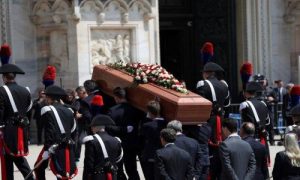 Today in the Milan Cathedral they say goodbye to the ex-Prime Minister of Italy Silvio Berlusconi, who died on June 12 at the age of 87.
Local journalists report that about 20,000 people gathered in the square in front of the cathedral.
People on the square who came to pay their respects shout: "Grazie Presidente!" ("Thank you, President!").
Video: Silvio Berlusconi's funeral in Milan, the politician says "Grazie Silvio".
Silvio Berlusconi was born in Milan on September 29, 1936. In mid-1961, he graduated from the Faculty of Law of the University of Milan with excellent grades.
Berlusconi was the Prime Minister of Italy in 1994, 2001-2006 and 2008-2011. Media magnate, owner of the Fininvest holding, which united about 150 companies.