Russians were detained in Poland for distributing propaganda materials of the PKK "Wagner"
Information appeared that two citizens of the Russian Federation were arrested in Poland, who put up leaflets with an appeal to join the Wagner PIK.
Agitators for mercenaries were caught on the streets of Krakow and Warsaw. It is reported by the Ministry of Internal Affairs of Poland.
The stickers put up by the Russians contained the words, "We are here. Join us" and a QR code that leads to a recruitment site.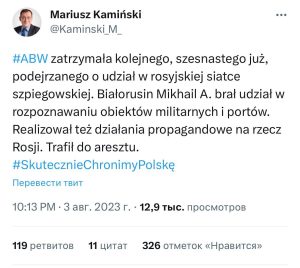 The arrested citizens of the state of the aggressor of the Russian Federation are also accused of espionage.
Earlier, the media close to Wagner posted photoshopped images with supposedly PIK chevrons on the Polish border.