Kadyrov is in a coma in a Kremlin hospital!
The next 72 hours will be decisive for Kadyrov. Russian media writes about this.
Earlier, Ukrainian intelligence representative Andrei Yusov reported that Kadyrov's illnesses had worsened, which is why he is now in serious condition.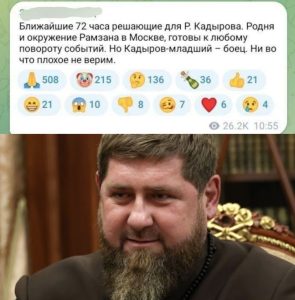 Despite this, a video appeared on Kadyrov's Telegram channel where he is allegedly alive and well. It is unknown when the video was filmed.
Information has also appeared that expensive cars with Chechen license plates are driving into the main Kremlin hospital one after another.
Let us remind you that earlier it was to this clinic that, according to media reports, Kadyrov was hospitalized.
"In just an hour, the "Chechen" arrived at the Central Clinical Hospital: a Maybach with two security cars, a Porsche Cayenne, four Geländewagen, two BMWs, etc.," local media write.