Zelensky in intensive care! Hackers hacked radio "Bayraktar" and "Melody"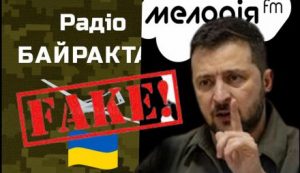 Zelensky in intensive care: Russian hackers broke Bayraktar and Melodiya radios and launched a fake about the President of Ukraine.
On the radio, the announcer says in a machine voice that now allegedly "the duties of the president are performed by the chairman of the Verkhovna Rada, Ruslan Stefanchuk."
So-so throw-in, of course. Someone would have told them that the President of Ukraine records a video message to the people every evening. And not from the walls of the hospital.
Alive and well – Vladimir Zelensky recorded a video in which he denied the information that he was in intensive care.
"With all due respect to old age, 44 is not 70."
We also reported that Polish scientists have named a new 150-million-year-old species of crinoids found in Africa. In honor of the President of Ukraine Volodymyr Zelensky. Lilies "Ausichicrinites Zelenskyyi".