President Putin can be very sick
The President of Russia behaved very strangely during today's meeting with Russian Defense Minister Shoigu.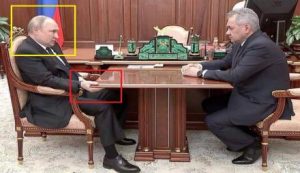 Putin grabbed the table during the meeting. It looks like he is scribbling in severe pain, he can barely sit on a chair, clutching the table-top with his right hand so as not to fall. He doesn't move his left hand at all.
Social media users have suggested that this behavior can beat with illness, he is ill with Parkinson's or Alzheimer's and, holding on to the table, is trying to hide the tremor of the limbs.
---
LATEST NEWS: Briefing by President of Ukraine Volodymyr Zelensky and Prime Ministers of Denmark and Spain.
Видео UA_STENA. INFO