The century egg is a delicacy of Chinese cuisine
While the whole world is having a quick breakfast, the Chinese are in no hurry even in such trifles. For the preparation of the original snack, they are ready to wait.
A unique dish: duck is traditionally taken, but chicken, goose, quail or even turkey eggs can be used.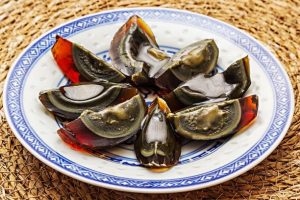 It is covered in a shell with a mixture of clay, ash, lime, tea and salt, showered with straw or rice husks and completely protected from the air.
Under such conditions, the eggs are kept from 15 to 20 days to 4 months. The coating of eggs dries and hardens over time, and fermentation processes take place inside.
Thanks to this unusual cooking method, century eggs have much more protein. They are rich in iron, selenium, phosphorus.
The Chinese believe that regular consumption of such goodies normalizes blood pressure, improves eyesight and liver function.
Video YouTube Vicky Mom's Fancy Notes