Results of a meeting that lasted more than 3 hours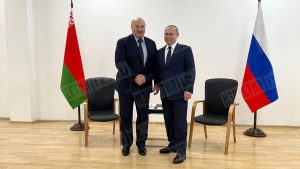 The results of the meeting between Putin and Lukashenko, which lasted more than 3 hours:
Putin:
What is happening in Ukraine is a tragedy, but Russia had no choice.
— In a situation of a sanctions war, it is important to deepen the integration of the Union State. The Russian Federation and Belarus have fulfilled more than 30% of the planned integration plans.
— In the energy sector, the coordination of the project of the united electricity market with Minsk has been completed. Payments for gas in rubles with Minsk will minimize the negative impact of sanctions.
– The Belarusian platform is suitable for negotiations between Moscow and Kyiv.
Lukashenko:
– If Russia had been even a little late with the operation, then a crushing blow would have been dealt to Russian territory.
– What happened in Bucha is a "British special operation."
"We once decided that the Cold War was over. The West didn't think so. They didn't destroy us then, they decided to try now."
— No sanctions lead Russia and Belarus astray.
Telegram