Forces of the Armed Forces of Ukraine

 knocked out the cruiser "Moskva" missile "Neptune"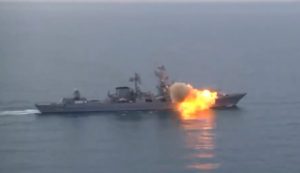 The Russian Ministry of Defense confirmed that the Moskva cruiser was on fire, and for some reason they called the cause of the fire "detonated ammunition."
According to their own statement, there is a serious fire on the ship. The crew was completely evacuated, the causes of the fire are being established.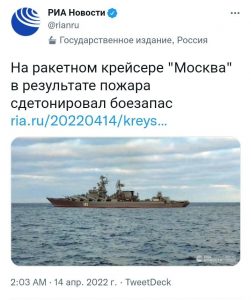 Earlier, it was reported that the cruiser "Moskva" was shot down. This was confirmed by several sources at once, the head of the Odessa Regional State Administration, Alexei Arestovich, Andriy Yermak. Neptune tried.
The head of the Odessa OVA, Marchenko, also said that the cruiser Moskva was hit by Neptune. "The Neptune rockets inflicted very serious damage on the cruiser," Marchenko wrote.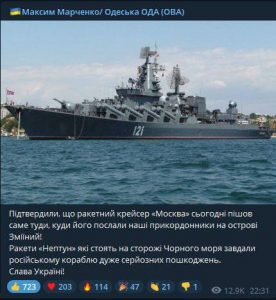 And here is how the Moskva cruiser looked like before it was hit by our Neptune missile.
The missile cruiser was the flagship of the Russian fleet.