Ferrari 250 GTO sold for $51.705 million

!

During the latest Sotheby's auction, a 1962 Ferrari 250 GTO was sold for a record $51.705 million.

The buyer paid the largest amount ever paid for Ferrari cars at auctions.

As noted on the website of the Sotheby's auction house, the car sold previously belonged to the head of the Ferrari Club of America.

The name of the buyer who paid such a huge amount for the car is still unknown and has not been disclosed.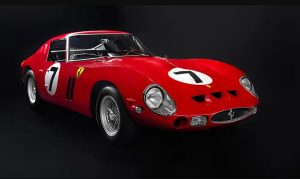 1962 Ferrari 250 GTO
The original model was produced in a limited edition of 36 units between 1962 and 1964.
Then the coupe cost about 18 thousand dollars, and over half a century the price jumped to tens of millions.
In 2018, one of the 36 cars was auctioned for a then-record auction price of $48.4 million.
A little later, another car was purchased privately for $80 million.