The Ukrainian army has broken through the Russian first line of defense at the front!
The Armed Forces of Ukraine have crossed the enemy's first line of defense on the southern front.
This was stated by US Chief of Staff Mark Milley during an interview for Almamlakatv.
"They crossed the main first line of defense. This defense line, which the Russians spent many months preparing, has minefields, dragon's teeth and anti-tank trenches, and there is a complex matrix of defensive preparations. The Ukrainians are crossing it," Mark Milley said.
The general does not believe that the Ukrainian counter-offensive has failed, although it is going a little slower than expected.
"It's too early to judge the success or failure of the attack. Obviously, partial success has been achieved so far. The speed of the attack was slower than I thought, but this is not uncommon in war, since war on paper is different from war in reality," the general also said.
The aforementioned breakthrough of the first Russian line of defense probably occurred in the Orekhovskoye direction, where today the General Staff reported on successes.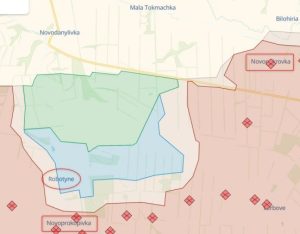 The Ukrainian military had success in two directions on the southern front, according to the General Staff of the Armed Forces of Ukraine.
"On the directions Novodanilovka – Novoprokopovka and Malaya Tokmachka – Ocheretovatoye were successful, they are gaining a foothold on the achieved lines," said Andrey Kovalev, speaker of the General Staff.