Pope Francis did not let go of the Ukrainian flag from Bucha
The Pope kissed the flag of Ukraine!
Pope Francis kissed the Ukrainian flag brought from Bucha during the audience.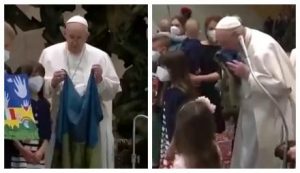 During the traditional audience in the Vatican, Pope Francis did not let go of the blue and yellow flag sent to him from Bucha.
Francis

 also condemned the massacres in Bucha and unfurled the Ukrainian flag.
"This flag came from the war, from this long-suffering city of Buchi," said the Pope.
LATEST NEWS
 

: Belarusian opposition telegram channels report that drunken Russian soldiers raped a student in Mazyr.