Pope Francis wept when he remembered the war in Ukraine!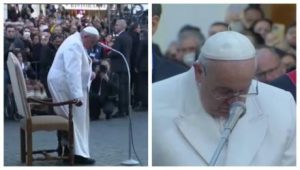 "Most Pure Virgin, today I would like to present you with the gratitude of the Ukrainians," Pope Francis began, but could not continue because of tears.
Francis lowered his head and fell silent for about 30 seconds. And when he resumed his prayer, his voice began to tremble.
Finally, it dawned on him, so far these are only tears of pity for Ukraine.
A little later, they will be replaced by tears of horror, when Pope Francis realizes what danger the aggressor state of the Russian Federation poses to the whole world.