Fans support Ukraine at the World Cup
"Save Ukraine": In Qatar, a man with such an inscription on a T-shirt ran onto the football field during the Portugal-Uruguay match.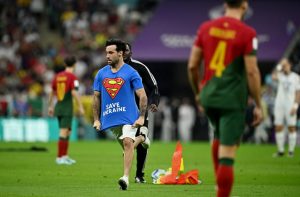 On the back of the fan's shirt was the slogan "Respect for Iranian Women". The man was holding an LGBT flag in his hands.
The activist turned out to be Italian footballer and public figure Mario Ferri.
In March, he came to Poland to help transport refugees from Ukraine.
And during yesterday's match at the World Cup between Germany and Spain, Spanish fans raised the Azov flag.
This was announced by the former forward of the Ukrainian national team Roman Zozulya.
"During the Germany-Spain match, Spanish fans unfurled a large flag of Ukraine with the symbols of the Azov regiment. A few minutes later, representatives of FIFA appeared and removed the flag," said the Ukrainian footballer.