Poland may block Ukraine's accession to the EU
Poland may block Ukraine's accession to the EU if the issue of grain exports is not resolved.
Polish Minister of Agriculture Robert Telus made the vow. TVn24 reports.
"If we do not create these instruments today, Poland will definitely not agree to Ukraine's accession to the EU. When Poland joined the European Union, we had to fulfill the imposed conditions. And we must set conditions for Ukraine.
On the basis that exists at the moment, Polish agriculture will never defeat Ukrainian agriculture, which is why our position is so strong," he said.
At the same time, Ukraine may ban the import of Polish fruits and vegetables.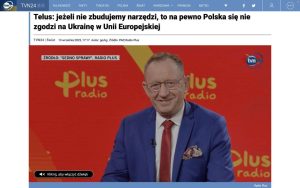 Information also appeared that the Polish authorities claim that the current opposition, during the premiership of their leader Donald Tusk, was ready to give half of Poland to the Russian Federation in the event of an invasion.
Polish Defense Minister Mariusz Blaszczak published a video showing the first page of declassified documents from 2011 with a plan for the Polish army to retreat across the Vistula River in the event of a Russian invasion.