The world's first laptop with a virtual screen!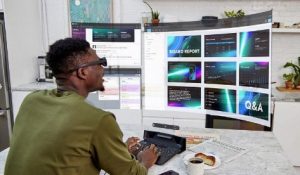 The Sightful company introduced a laptop with a 100-inch virtual screen.
The new miracle of technology was named Spacetop. The package includes a keyboard and AR-glasses that project the desktop directly in the air on a virtual screen with a diagonal of 100 inches.
Due to the fact that the screen is shown exclusively in AR, no one will be able to see what the owner of the laptop is doing.
The device is equipped with a Qualcomm Snapdragon 865 processor, 8 GB of RAM and 256 GB of permanent storage.
Spacetop OS is declared as an operating system, it is an OS based on Android.
Video YouTube Sightful