Russian troops bombed a children's hospital and a maternity hospital in Mariupol! 
The Russian occupation troops are trying with all their might to surpass the 40s of the last century.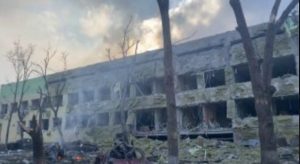 This is how the place where the air bomb fell in Mariupol looks like.
Russian troops have now dropped several bombs on the children's hospital. The destruction is colossal.
The building of the medical institution, where until recently children were treated, was completely destroyed . Information about the affected children is being specified.
The video shows the same hospital in Mariupol and its environs after the Russian air raid.
We will never forget! We will never forgive these scum!
Телеграм