Russian TV channels aired the bombing of peaceful cities in Ukraine
Anonymous hacked RosTV!
Special programmers at Anonymous reported that they had hacked Russian streaming services and state propaganda TV channels.
Anonymous announced this on their Twitter page.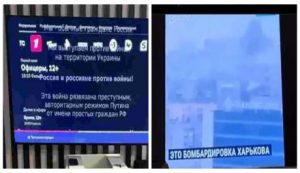 The Anonymous hacker group today hacked Russian streaming services Wink and Ivi (like Netflix) and live TV channels Channel One, Russia 24, Moscow 24 to broadcast war footage from Ukraine.
On the published footage, you can see that instead of live broadcasts of Russian air, a video of the bombing of peaceful cities in Ukraine is being broadcast.
Anonymous also posted pictures showing, instead of broadcasting, a message that ordinary Russians are against the war in Ukraine and are calling on their compatriots to speak out against the genocide in Ukraine.
JUST IN: The hacking collective #Anonymous today hacked into the Russian streaming services Wink and Ivi (like Netflix) and live TV channels Russia 24, Channel One, Moscow 24 to broadcast war footage from #Ukraine. #TangoDown #OpRussia pic.twitter.com/2V8opv7Dg9

— Anonymous TV 🇺🇦 (@YourAnonTV) March 6, 2022
MORE: All Russian-state TV channels have been hacked. pic.twitter.com/fCZaYpQjYP

— Anonymous TV 🇺🇦 (@YourAnonTV) March 6, 2022
Earlier, we also reported that the Anonymous hacker group dealt a powerful blow to RosTV! Only Ukrainian songs were broadcast live on state TV channels . VIDEO