After the fake video of Putin, the whole world is already laughing at him
Yesterday, Russian propaganda TV channels published a video of the Kremlin dictator allegedly surrounded by women talking about the war and why he "had no choice" but to start bombing Ukraine.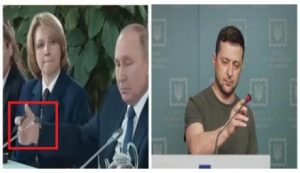 According to  
the Center for Combating Disinformation
, a closer look at this video can make sure that it was made using chromakey technology, and add:
"The microphone is not real, like the whole "extras" on the video. Don't be surprised by the 
dubious
 quality of editing, nevertheless, in Russia, all companies supplying modern graphic editors have stopped supporting.
Putin drew the whole environment at the «meeting» with the female flight crew. Pay attention to the microphone, it is drawn, the hand passes through it without touching it.
Ukrainian leader Volodymyr Zelensky, probably already aware of this fake video of the Russian dictator, subtly and beautifully trolled him at the end of his speech.
Watch the video until the end.