Ukrainian military has started training on Abrams tanks!
Ukrainian military in Germany started training on American Abrams tanks.
This was reported by the New York Times with reference to the Pentagon's statement.
"The first group of about 400 Ukrainian soldiers began training in Germany to operate and maintain American M1 Abrams tanks," New York Times journalists write.
On Friday, about 200 troops began joint military training in Grafenwohr and Hohenfels.
The other 200 soldiers began training in refueling Abrams tanks. And their service.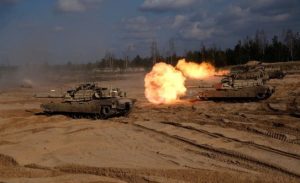 The day before, the "Zaporizhsky Mesnyk" military ZSU shot down 2 enemy Su-25 attack aircraft. One plane was completely destroyed, and the other was badly damaged.