Bayern are Bundesliga champions 2022/23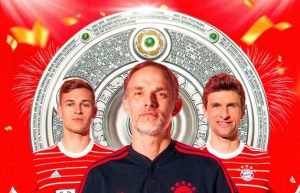 Bayern Munich has become the Bundesliga champion of the 2022/23 football draw.
This is the 11th consecutive "salad bowl" for the Munich club.
It was not possible to interrupt the hegemony of the Munich team, because "Borussia" was never able to win the decisive match.
"Borussia" had every chance for it, but they played in front of their own fans in a 2-2 draw with the "Mainz" team.
But the players of "Bavaria" confidently won, even with a misfire at the end of the match, and therefore deservedly take away a new trophy.