Help Azovstal!

Ukrainian group won Eurovision and called to save people in Mariupol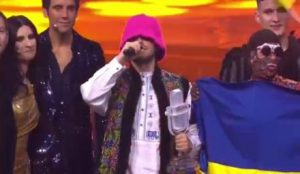 The Kalush Orchestra from the stage of the Eurovision Song Contest 2022 called to save the defenders of Mariupol, Donetsk region, who are on the territory of the Azovstal plant.
Soloist Oleg Psyuk said in English: "I appeal to all of you! Please help Ukrainian Mariupol! Help Azovstal! Now!"
Boris Johnson congratulates Ukraine on winning Eurovision-2022.
  "Congratulations to Ukraine on winning Eurovision 2022. This is a vivid reflection not only of your talent, but also of your unwavering support for your struggle for freedom."