Argentina lost to Saudi Arabia!
Saudi Arabia beat one of the contenders for the championship!
The first sensation in the World Cup in Qatar! Saudi Arabia defeated Argentina 2-1!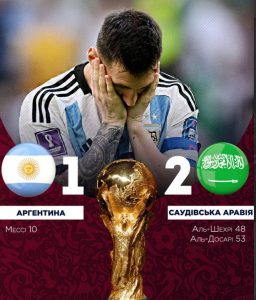 A goal scored by Lionel Messi was not enough to get points for one of the favorites of the tournament.
After that, the player of Saudi Arabia Al-Shehri wound up three Argentines and charged into the far corner! Masterpiece!
This is for sure the best goal of the 2022 World Cup so far.
Let's just recall that the composition of the Argentines is 25 times more expensive than the composition of the Saudi Arabian national team.
Table after the first match in the group. Today at 18:00 the national teams of Poland and Mexico will also play.